iMBA项目20周年庆典——Dr. Peter Maher: Global Vision and Management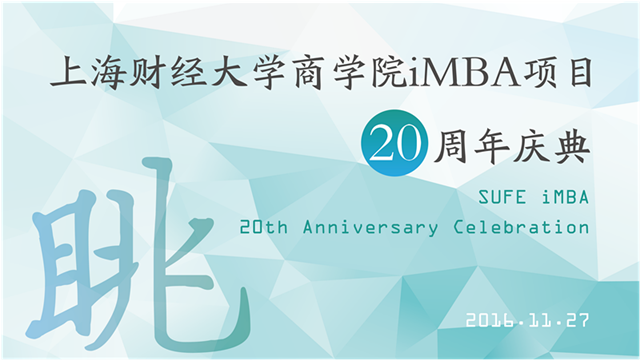 11月27日,上海财经大学—美国韦伯斯特大学合作举办工商管理硕士学位项目20周年庆典在大宁福朋喜来登酒店隆重举行。上海财经大学副校长、商学院院长陈信元教授与美国韦伯斯特大学国际校区副校长Peter Maher博士出席活动并致辞。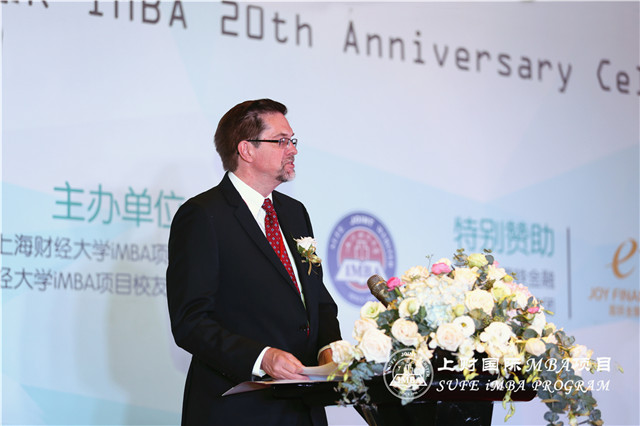 GOOD EVENING.
IT IS A TRULY GREAT HONOUR AND PRIVILEGE TO BE HERE ON THIS OCCASION, CELEBRATING THE 20TH ANNIVERSARY OF WEBSTER UNIVERSITY'S EXCEPTIONAL PARTNERSHIP WITH SHANGHAI UNIVERSITY OF FINANCE AND ECONOMICS, A PREMIER INSTITUTION IN THE PEOPLE'S REPUBLIC OF CHINA. YOU HAVE HEARD FROM OUR PRESIDENT, DR. ELIZABETH STROBLE, AND OUR PROVOST, DR. JULIAN SCHUSTER. THEIR PRIDE IN THE OUTSTANDING AND ONGOING SUCCESS OF THIS PARTNERSHIP BETWEEN TWO OUTSTANDING INSTITUTIONS, I CAN ASSURE YOU, IS SHARED BY ALL FACULTY AND STAFF THROUGHOUT THE WORLDWIDE WEBSTER NETWORK.
THESE ARE OCCASIONS FOR CELEBRATION AND PRIDE. THEY GIVE US THE OPPORTUNITY TO PLAN FOR THE FUTURE OF OUR UNIVERSITIES TO ENSURE THEIR CONTINUED SUCCESS. THEY ALSO GIVE US THE OPPORTUNITY TO REFLECT ON ALL THAT OUR INSTITUTIONS HAVE ACHIEVED. THE LONGSTANDING PARTNERSHIP BETWEEN SUFE AND WEBSTER UNIVERSITY HAS BROUGHT ENORMOUS BENEFITS TO BOTH INSTITUTIONS. SUCH PARTNERSHIPS ARE REFLECTIONS OF OUR VISIONARY LEADERSHIP, BOTH PAST AND PRESENT. I WOULD LIKE TO THANK THE ADMINISTRATION AT SUFE FOR ALL THEIR EFFORTS IN PROMOTING OUR JOINT PROGRAM, AND TO ALL THOSE WHO HAVE BEEN AFFILIATED WITH THE TWO INSTITUTIONS THAT HAVE HELPED TO MAKE THIS PARTNERSHIP AN ENORMOUS SUCCESS OVER THE PAST 20 YEARS. AND OF COURSE I WOULD LIKE TO RECOGNISE THE WONDERFUL FACULTY FOR ALL THE HOURS SPENT TEACHING OUR STUDENTS AND PREPARING THEM FOR AN ENRICHED CAREER. WE ARE PROUD TO HAVE BEEN INVOLVED IN SUCH A PRODUCTIVE COLLABORATION AND SINCERELY HOPE IT WILL CONTINUE FOR MANY YEARS TO COME.
WEBSTER UNIVERSITY HAS A UNIQUE STANDING WITHIN THE UNITED STATES IN TERMS OF OUR GLOBAL NATURE, AND HAS A MISSION SUPPORTING THIS VIEWPOINT. OUR 20-YEAR PARTNERSHIP WITH SUFE, AND THE 2000+ ALUMNI OF OUR JOINT MBA PROGRAM, REPRESENTS A VITALLY IMPORTANT COMPONENT OF THIS MISSION.
A CONVERSATION WITH A CURRENT STUDENT ALLUDED TO HELPING TO "GAIN THE SKILLS AND CONFIDENCE NEEDED TO START MY OWN BUSINESS" AND THE "GLOBAL VISION AND CROSS-CULTURAL MANAGEMENT" OF THE PROGRAM. ALL INDUSTRIES ARE BECOMING INCREASINGLY GLOBAL IN NATURE, REGARDLESS OF THEIR TYPE OF WORK. PREPARING GRADUATES FOR A TRULY GLOBAL INDUSTRY IS BECOMING MORE AND MORE IMPORTANT. LOOKING AROUND THE ROOM TODAY, SEEING SO MANY GRADUATES OF OUR JOINT PROGRAM MAKES ME VERY PROUD. SHANGHAI IS WELL-KNOWN AS THE BUSINESS CAPITAL OF CHINA, AND THEREFORE IS AN IDEAL LOCATION FOR OUR INTERNATIONAL MBA. OUR ALUMNI HAVE PROGRESSED IN THEIR CAREERS TO SERVE KEY ROLES IN ORGANISATIONS IN SHANGHAI, AROUND CHINA, AND INDEED ACROSS THE WORLD. THEY ARE TRULY HAVING A SIGNIFICANT, AND POSITIVE IMPACT ON THEIR OWN PROFESSIONS AND COMMUNITIES.
I KNOW THAT SUFE HAS DONE A TREMENDOUS JOB IN TERMS OF ENGAGING WITH ALUMNI, ORGANISING EVENTS WITH PROMINENT BUSINESS PROFESSIONALS, AND GENERALLY ENSURING THAT ALL GRADUATES REMAIN PART OF THE SUFE/WEBSTER FAMILY. CURRENT STUDENTS CAN LEARN SO MUCH FROM THE EXPERIENCE AND EXPERTISE OF PREVIOUS GRADUATES. THESE TYPES OF INITIATIVES ARE VITAL TO ENSURING THE ONGOING SUCCESS OF OUR PARTNERSHIP.
EVERY GRADUATE OF A WEBSTER UNIVERSITY PROGRAM BECOMES AN IMPORTANT PART OF A GLOBAL FAMILY THAT CURRENTLY HAS OVER 175,000 MEMBERS. LAST NOVEMBER WE CELEBRATED OUR 100 YEAR ANNIVERSARY – A VERY SIGNIFICANT MILESTONE. SUFE WILL BEGIN CELEBRATING THEIR 100th YEAR in 2017. THIS ANNIVERSARY OF OUR PARTNERSHIP IS AN EXTREMELY SIGNIFICANT LANDMARK IN WEBSTER'S HISTORY.
FROM A PERSONAL PERSPECTIVE, I HAVE A GREAT INTEREST IN OUR OPERATIONS IN CHINA AND WILL PROMISE TO PROVIDE WHATEVER SUPPORT I CAN TO ENABLE THE CONTINUED SUCCESS OF OUR COLLABORATION FOR MANY YEARS TO COME. I BELIEVE WHOLEHEARTEDLY IN OUR JOINT PROGRAM, AND WOULD LIKE TO SET A GOAL OF SUBSTANTIALLY EXPANDING OUR PARTNERSHIP SO THAT TOGETHER WE CAN HAVE AN EVEN GREATER ROLE IN ENHANCING THE KNOWLEDGE AND EXPERTISE OF BUSINESS PROFESSIONALS IN SHANGHAI AND HOPEFULLY OTHER CITIES IN CHINA.
SO AGAIN I AM HONOURED TO BE HERE TODAY, REPRESENTING WEBSTER UNIVERSITY. I LOOK FORWARD TO FUTURE EVENTS AT OUR TWO INSTITUTIONS, AND WILL ALWAYS WELCOME THE OPPORTUNITY TO SUPPORT OUR COLLABORATION IN ANY WAY POSSIBLE.
THANK YOU AND ENJOY THE REST OF THE GATHERING.


特别感谢以下企业为本次活动提供的大力支持:
· 上海嘉轶金融信息服务有限公司
· 钜派投资集团
· 纽溪蓝国际贸易
· 易商中国
· 贤云教育科技(上海)有限公司
· 草莯星球花艺生活馆
· 上海大宁福朋喜来登酒店
---
项目简介

上海财经大学-美国韦伯斯特大学合作举办工商管理专业(MBA)硕士学位项目,即上财商学院国际MBA项目,创办于1996年,是最早获教育部批准的中外合作学位教育项目之一,已连续20年招生。采用美式申请制,项目自主招生,无需参加全国联考,全面考核学员的综合素质,管理经验及英语应用能力,择优录取。 毕业后获美国硕士学位,中国教育部学历学位认证。
【2017第一批次入学考试】2017年3月12日
【招生电话】021-55968289 / 65443025

【考试报名】http://usercenter.shufe.edu.cn/Account/Login
发布日期:2016-11-30
浏览次数:1451