卡瓦盛邦(上海)牙科医疗器械有限公司招聘信息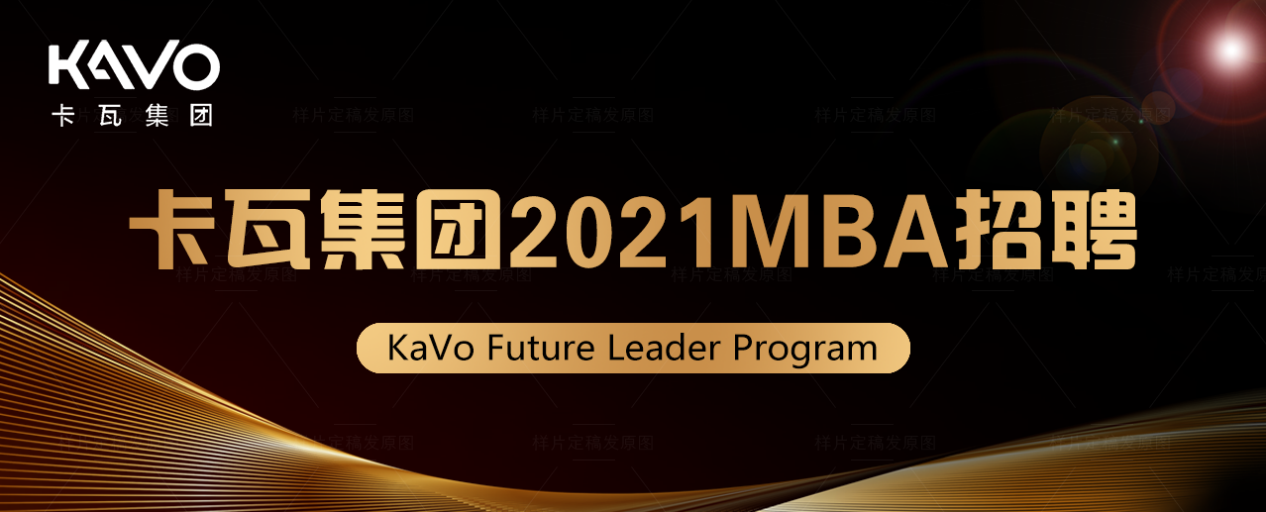 Program Introduction
Tailored fast – track development program for MBA graduated talents to be future leaders for key functional head positions, including sales, marketing, finance, BD & Strategy, etc. Through this journey, you will rotate three to four roles in different business units to quickly ramp you up with industry knowledge, functional expertise, as well as leadership capabilities. You will be mentored and coached by senior leader along the way, gain senior executive exposure through regular meetings with President. You will also be provided with targeted learning programs that is tailored to your developmental needs.
Digital Application Channel

A. Channel-PC

Please access the following link for Digital Application
https://www.careerqihang.com/kavo_mba2021

B. Channel-Mobile

Scan the QR code as below for mobile application

Any question, please mail to: hrteam.china@kavo.com
Qualifications
1. Full time or Part time MBA who will graduate in late 2020 or 2021.
2. Excellent communication and influencing skills, strong oral and written English communication / presentation skills.
3. 5+ years of relevant experience in leading companies prior to MBA, Medical devices/Pharmaceutical industry background is a plus.
4. Excellent analytical skills, strong business acumen and learning agility.
5. Strong people sense and leadership potential.
6. Result driven, high passion and entrepreneurship, especially strong passion for Dental industry.

Hiring Process
①Oct. 26- Nov. 22: On Line Application/CV Screening
②Nov. 4 : CEIBS Campus Talk
③Nov. 4 - Nov. 22 : HR Interview & Online Assessment
④Nov. 23 - Dec. 15 : Business Case Interview & Final Interview
⑤End of Dec.: Offer

About KaVo Group:KaVo Group is one of the largest global dental products companies, with significant market positions in dental industry's most attractive segments. Our comprehensive portfolio spans innovative dental implants and treatment options, orthodontics, and digital imaging technologies. Starring brands in KaVo Group represent more than 125 years of dental industry excellence, including:KaVo Kerr (Imaging), Soredex (Imaging), Nobel Biocare Systems (Implant), ABT (Implant), Kerr (Repair), SybronEndo (Root Canal Treatment), Ormco (Orthodontics) and Metrex (Infection Control).With a strong culture grounded in continuous improvement, innovation, and deep customer focus, KaVo endeavors to helping its partners to deliver the best possible patient care through industry-leading products, total dental solutions, and advanced technology.